"Women make history" presents women from prehistory, women from Stone Age, Bronze Age, Iron Age and Classical antiquity who have contributed significantly to the history of mankind.
Posts about women of prehistory are welcome. If possible please apply this format.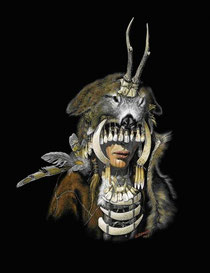 A female shaman was buried at Bad Dürrenburg, Germany, around 8000 years ago. She was reverently covered with a 30 cm thick layer of red ochre. She probably limped due to an irregularity in her first vertebra.

Her regalia: a headdress with two deer antlers, several boar-tusk plaques, 16 deer incisors, 3 turtle shells, 2 crane bones, and a variety of shells, needles, knives, and microblades. 120 freshwater mussels; and bone needles, flint knives, antler hoe, and a crane-bone container with 31 microliths.
The woman had been buried in an upright posture, as it was typical for the hunter-gatherers.
Read More
1 Comments
If you would like to get informed about new Blog entries - newly presented women - then you can